WWe are a group of students, student teachers and professional dancers. Our goal is to bring out the best of everyone through Middle Eastern Dance. Most of what we do is a fusion of the many styles of belly dance. American Tribal Style, Tribal, Triberet, Club Caberet, Ethnic, Historical, Fantasy, Gothic, Modern and SO much more!
Whatever age you are... we have a class for you.
Call on us to perform for you. We dance for private functions, Weddings, Birthdays, parties, club meetings, Aniversaries, Senior care facilities, Public fairs, fund raisers, Restaurants and Hookah Bars.
As a group we come from many backgrounds. Press on the pictures of each of the dancers and teachers to find out more.
We are always adding new student performers to our group. Come and join in on the fun!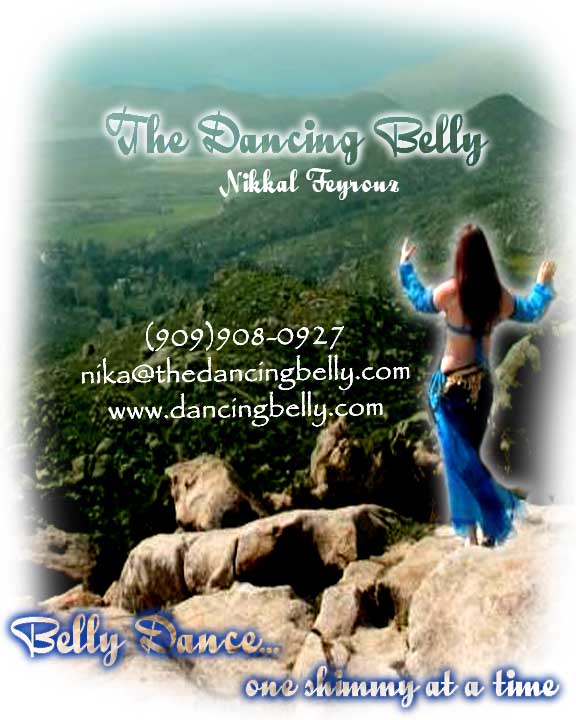 The Dancing Belly
Hemet, CA
BELLY DANCERS FOR HIRE! Hire us to entertain you! Professional dancers right here in the Inland Empire! School of Belly Dance. Come join our many classes! We teach Tribal, Egyptian, Lebanese, Turkish, Ethnic, and fusion Belly Dance. You will get a work out from one of the best Belly Dancers in the Inland Empire. Come and Be prepared to dance and have fun. You can also hire Nikkal Feyrouz or any of her dancers for Parties, Weddings, Restaurant gigs, Bellygrams and more. Email us to find out more!
Nikkal Teaches Classes In Southern California... San Jacinto, Hemet, Moreno Valley, Covina, Rancho Cucamonga, Upland, Pomona and numerous Private classes.