Information about dancingbelly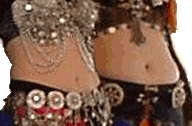 We are a group of students, student teachers and professional dancers. Our goal is to bring out the best of everyone through Middle Eastern Dance. Most of what we do is a fusion of the many styles of belly dance. American Tribal Style, Tribal, Triberet, Club Caberet, Ethnic, Historical, Fantasy, Gothic, Modern and SO much more!

Whatever age you are... we have a class for you.

Call on us to perform for you. We dance for private functions, Weddings, Birthdays, parties, club meetings, Aniversaries, Senior care facilities, Public fairs, fund raisers, Restaurants and Hookah Bars.

We are always adding new student performers to our group. Come and join in on the fun!

Nikkal Feyrouz
Nikkal Feyrouz

Nikkal has been dancing and performing all of her life. She started off in the more traditional styles. Tap, Ballet, modern and Jazz from 3 years old until about 12 years old. She has had many years of formal musical training too. From the age of 8 yrs on. In the Marine Corps Nikkal was a professional musician on the Flute and piccolo. Around 1993 Nikkal became interested in the SCA. In the SCA she learned many court dances from the Middle Ages. Not too long after that she was performing with the members of the SCA in Okinawa Japan on stage and at schools. In about 1994 Nikkal became highly interested in Belly Dance through the Middle ages and the History of the dance and from that moment on loved the dance. Through the love of this dance she explored what she could find through others in the SCA. Upon moving back to the US Nikkal would dance with friends for the sheer joy of doing the Belly Dance. Through a friend, she was introduced to Aziza Said. After a few classes she was asked to perform and hasn't stopped since!!! Nikkal creates most of her costumes. She owned a jewelry business for about 6 years while located in Japan. Learning to sew Medieval gear from a professional seamstress helps her in designing and creating costumes! In the Future Nikkal hopes to expand her horizons as far as she can reach through all of the aspects of Middle Eastern Dance. Her Newest Love is Fusing world music and fusion Bellydance! Come back often to see what she is up to next!